About Us
Flowering Since 2003!
After becoming under new ownership in early 2017, we have strived to meet and surpass your expectations of customer service and product quality. We have a 48-hour Guarantee Policy to encourage feedback and increase customer satisfaction. In addition to flowers, we have a curated selection of indoor plants, candles, unique containers, gift boxes, small batch chocolates, balloons, food baskets, greeting cards, and more!
We welcome you to place your order via phone. It often allows us to better serve you by increased communication about product and style availability, delivery concerns, timing preference, and more.
Freshness and variety are our floral standards. We carry a standing inventory, of roses, daisies, alstroemeria, oriental lilies, hydrangea, carnations, stock, and lisianthus. Between those staples we fill in with seasonally available product, both local and global. Being in New England our availability is always changing. Be aware we are often required to make substitutions. With that said, please contact us about specific flower requests. We frequently have unique options in stock that are not listed on our website.
Community is key. We're a small-town shop ran by lifelong residents. Your purchases support our donations to the following organizations, Cotton Valley Rail Trail, Lakes Region Humane Society, Kingswood Youth Center, Brewster Academy, Hazel MacBrien Nursery School, Castle in the Clouds, Ossipee Mountains Habitat for Humanity, Ossipee Recreation, Make Someone Smile, and more!
For more information about our by-the-book policies, keep reading below.
For Wedding information, please fill out our consultation form on our Wedding page under Occasions.
For job information, donation requests, and all other inquiries, please email us at the customer service link listed to the right.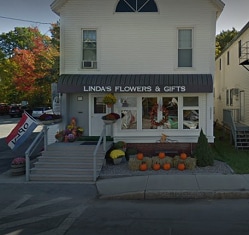 Linda's Flowers
91 Center st. P.O. Box 968
Wolfeboro Falls,NH 03896
---
Additional Information:
Our shop is open from:
9:00 a.m. to 5:00 p.m., Monday , Tuesday, Thursday & Friday
9:00 a.m. to 1:00 p.m., Wednesday & Saturday
Closed, Sunday


Our Guarantee
Every order is important to us because we know how important it is to you. We aim to please every customer with beautiful flowers and accommodating service. Knowing that flowers are a perishable natural product and that floral arrangements and floral gifts are hand-made, we make every effort to fortify our floral products and ensure the quality, accuracy and beauty of our work. Many variables determine whether a flower will last as long as anticipated or whether a designer has created something which you will enjoy. Because we constantly seek ways to bring some of these variables under our control for improved floral performance, we welcome your comments and inquiries. If you are not completely satisfied with the quality of one of our products, then please contact us within 48 hours and we will promptly take the appropriate action.
Delivery Policy
Same Day Delivery: We try our best to fulfill as many same day orders as possible! Please be mindful that we service over 10 towns. It's always best to place your order ahead of time.
Specific Times: We are unable to guarantee delivery at a specific time. You may request a time frame in the special instruction box when ordering, and we will do our best to accommodate your request.
Delivery Times: Normal delivery times are 9am-5pm daily for orders going to a business, residence, hotel, or hospital. During major holidays such as Valentine's Day and Mother's Day we operate extended hours and delivery times are 8am-8pm.
Funeral Homes: These orders are our very highest priority. If you have ordered too late to make the funeral service we will call to let you know quickly so that you can make other arrangements or have something sent to the home of the family. We normally contact the funeral home anyway to verify the time of the viewing and make arrangements for the flower delivery. If you have selected a delivery date that is before the actual viewing we will deliver to the viewing per the funeral home instructions.
P.O. Boxes: We are unable to deliver flowers to a P.O. Box or an A.P.O. addresses.
If No One is Home: Depending on the delivery location, if the recipient is not available at the time of delivery, the delivery person may leave the gift in a safe place for the recipient to retrieve when they return, such as with a neighbor, or leave a message for the recipient to call to arrange for delivery. We will leave a door tag for the recipient with attempted delivery date/time and our business information. We can redeliver the arrangement at our convenience or the recipient may pick it up.
Incorrect Addresses: If the recipient's address is incorrect and delivery was attempted to the address but not fulfilled, we can redeliver the arrangement at our convenience or the recipient may pick it up. Linda's Flowers is not responsible for deliveries made to incorrect addresses submitted to us by the customer. If such a delivery is made, the customer assumes responsibility for the entire purchase.
Canceling an Order: Same-day orders are processed immediately, and usually cannot be changed. Due to the urgent nature of florist delivered products we are unable to cancel or change orders already in process at the florist, en route or delivered. To cancel or change an order that has not been processed, please call (603)-569-4513.
Recipient May be Contacted: In most cases, the florist may contact the recipient to ensure s/he will be home to accept the delivery.
Request to Leave Item at Door: The customer assumes all liability for requests to leave arrangements. We highly discourage special instructions requesting delivery to a doorstep, porch, yard or any location where the recipient cannot accept the arrangement themselves. Linda's Flowers cannot be held responsible for missing or faulty product due to this special request.
Recipient Refusal of Delivery: If the recipient refuses to accept a delivery, you may be held fully liable for the cost of the gift.
Card Messages: The message that you write in the Card Message field is the message that is sent with the gift. We do not include any billing information with your order.
International Orders: We will be happy to accept your international orders if you call our shop directly. We are unable to accept international orders over the Internet.
Substitution Policy
Fresh Flowers: At Linda's Flowers we are committed to delivering your important emotional sentiments on time and as fresh and beautiful as possible. Because of the nature, seasonality, and regional availability of flowers it is sometimes necessary to make substitutions of equal or greater value. We will make every effort to maintain the "look and feel" of the arrangement by considering the overall shape, size, style, and color combinations. In single-variety arrangements the variety will take precedence over color. For instance, if an order is for yellow daisies, they will substitute another color of daisies, not another yellow flower. White roses and cream roses may be substituted for each other as well as peach roses and pink roses. Purple and pink orchids may need to be substituted for white orchids and vice versa.
Balloons: Some places do not allow latex balloons with an arrangement. Mylar balloons may need to be substituted for latex balloons on some orders.
Plants: For green and blooming plants, similar plants may be substituted of equal or greater value. For one-of-a-kind plants, such as orchids, we will make every attempt to match the plant type, but may substitute with another color. Containers for plants will be as close as possible.
Gift Items: Substitutions within a basket may be made with items of greater or equal value if necessary to guarantee freshness and timely delivery.
Substitutions for Special Occasions: Due to the importance of delivering orders for special occasions, such as funerals, birthdays, and anniversaries, on specific days, we may make a substitution of equal or greater value to ensure timely delivery, if the flowers you requested are not available, and we are not able to contact you via the phone number(s) or email address you provided us.